The US actor sparks a fresh debate about racial jokes and isnt the only one. Meanwhile, could Ricky Gervais swing a record deal for David Brent? And Spotify launches a comedy app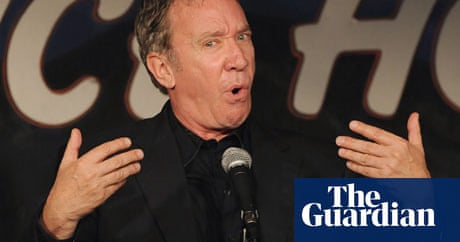 This week's comedy news
Comedian and actor Tim Allen is in a spot of bother this week. Specifically for telling the Tampa Bay Times that he should be able to say the n-word as much as he likes. "If I have no intent, if I show no intent, if I clearly am not a racist, then how can 'nigger' be bad coming out of my mouth?" asked Allen. The comic, who claimed to use the word regularly in his standup, added that "[the phrase] 'the n-word' is worse to me than nigger." African-American commentators politely but firmly disagreed. "Here's a general rule of thumb to follow when using the n-word for white people," said sociologist, author and radio host Michael Eric Dyson on MSNBC: "Never."
Laughing Stock is all about racial disharmony this week. In a story that echoes our own recent hoohah about Reginald D Hunter's gig at the PFA awards, an outcry has greeted a comedy performance at the Los Angeles county sheriff's department, which "managed to insult every ethnic group," according to reports. At last Wednesday's function, Filipino-American comedian Edwin San Juan made fun of Asian and Indian accents, evoked stereotypes about Koreans, and, yes, used the n-word. On the other side of the world, meanwhile, the Albinism Fellowship of Australia has protested at the new Paul Feig comedy movie The Heat, which labels an albino character a "snow cone" and "evil". According to the organisation's secretary Shari Parker, that makes The Heat "yet another film adding greater weight to the negative and inaccurate portrayal of albinism". Back in Blighty, Ricky Gervais has claimed "offers are flying in from around the globe" to make an album of songs by David Brent. The bidding war has been triggered by Gervais's online series Learn Guitar with David Brent, the latest instalment of which features a hymn to Brent's home-town of Slough. "I can't believe I'm now getting ridiculous offers from major record deals all over the world," said Gervais. "Where were these people when I was trying to be a real popster? And starving?"
Reading on mobile? See the video here
And Graham (John Shuttleworth) Fellows has written for the first time about the stage fright / memory loss incident that forced him to abandon his 2006 Fringe run. .
And finally, this week brought news that Spotify has launched a new comedy app, while comedian Dave Chapelle broke an all-time ticket sales record at Montreal's Just for Laughs festival. Simon Bird has confirmed that there is to be a second Inbetweeners movie; and movie A-lister Philip Seymour Hoffman is to star in a new comedy pilot, Trending Down: "a blistering attack on our youth-obsessed culture and a darkly comic examination of what it means to matter. Or matter not."
Best of the Guardian's comedy coverage
"Gee, it would be nice to get up there and do that again." Is Woody Allen about to return to standup?
"The best thing to happen to late-night since Colbert" Brit standup John Oliver is getting rave reviews for his stint as host of The Daily Show.
"It's a funny thing, national treasurehood. It's not like other hoods, such as 'neighbourhood' or 'Robin Hood' or 'extractor fan hood'" Alan Partridge philosophises.
"Dear comedians, I know it may seem that lying around in bed waffling to yourself is gold-standard hilarity, but, honestly, it isn't" comedy podcasts don't impress Miranda Sawyer.
"The new Les Dawson" fast-rising standup Lucy Beaumont given a short profile in the Observer.
This week's old news
A big story did the rounds in comedy this week, to the effect that Blackadder producer John Lloyd (who has an Edinburgh show to promote) has "revealed" in an interview on BBC Breakfast – that he and Rowan Atkinson had fancied making a second world war, feature film version of the sitcom, in which Blackadder & co escape from Colditz.
It's an attractive idea, just as it was when described in Jem Roberts's well-publicised 2012 book The True History of the Blackadder. "We got quite far talking about one set in World War Two," Roberts quoted Lloyd as saying, "with a platoon of Dad's Army soldiers in a seaside resort. One day a German submarine appears, captures them and takes them to Colditz, where they have to escape. I thought that was quite funny" Hold the front page (for about a year)!
Best of our readers' comments
This week, Leo Benedictus in his Comedy Gold column wrote about Michael McIntyre, taking the unfashionable-in-some-quarters position that McIntyre is "a class act". A debate promptly ensued, and two regular commenters weighed in. WSobchak happily endorsed Leo's enthusiasm:
Slagging off McIntyre has become so predictable, and is worn like some badge of honour to advertise one's refined and non-mainstream taste The [Eric] Morecambe comparison is fair enough. While it's permissible to like Eric Morecambe now, as he's no longer entertaining the lower orders, he was as subject to hatred from the middle-classes for his popular (and populist) routines while he was doing them. Back then, to advertise your credibility you had to have a Lenny Bruce album in your collection, and sneer at Morecambe, Cooper et al and those who enjoyed them, for not knowing what "real" comedy was.
Further below the line, LiberalAwesomeness exchanged views with Alfster on the issue of whether McIntyre owed his success to "fitting in well" with "well-spoken BBC executives":
He worked hard for 10 years. [But] so did a bunch of other comics. He got into debt. So did a bunch of other comics. Then he got spotted and out of a sort of cultural bias, he was given a gig and made a lot of money. That's the point the parallels differ, isn't it? The point that a cultural bias came in and gave him the gig over some of the others.

[I have] nothing against him personally as I'm sure he's a decent chap, but his onstage persona remains this privileged, plummy, foppy-haired, skipping face-wobbler it's a combination of finding that pretty basic, boring and "silver-spoon" + feeling frustrated that other observational comics will have been sidelined so that he can keep us locked in this post-Vaudeville, cheeky chappy hell-hole.

Depressing to say, but American stand-up is light-years ahead of this. Bill Burr, Louis CK, Tig Notaro fiercely intelligent, no skipping around or face-wobbling. I'd imagine if you showed them footage of the "Million Selling McIntyre DVD!", they'd look bemused that British comedy is still only at that point.
Read more: https://www.theguardian.com/stage/2013/jul/30/tim-allen-n-word-row